sziget salsa
17 December 2006, 13:37 genre: hungary by mickael
sziget 2006 summer festival in budapest
Very late publishing of these summer panoramas, hopefully just in time to warm you up as winter is calling. Thanks to Andras for inviting me to join him at the Sziget. Full pano-coverage here and Gilles' own production is always here.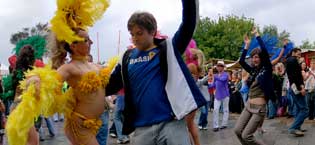 panoramas [QTVR] [FLASH 9] [iTunes]
after the salsa warm up, the crowd unleashed: samba !