adèle's birthday
20 March 2004, 19:08 genre: family by mickael
on the day of the world wide panorama shooting, I'd rather be with my daughter Adèle and her friends, for me the 20th of March is not the equinox, not the war on Irak and the peace demonstrations, or the commemoration of the sarin gas attack on Tokyo, it's Adèle's birthday !
the kitchen party
qtvr available sizes [FULLSCREEN] [SMALL] in a popup window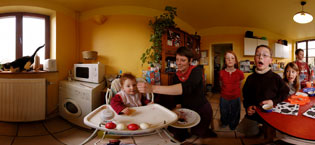 It was a challenge to get just half of this wild gang participating for a minute in the WWP project. The result is far from being perfect or of planetary scope, but this is what 360days family vr is meant for: to share with you the mood of a family day. Meet from left to right, Adèle, Alexandre (aka Moony), Florine, Basile, Marie, Lola, Adèle again (she gets the grips on ubiquity in QTVR), Pisghitti (he was not invited but is drooling on the cherry pie anyhow), Margot and Michèle my lovely wife.