africa
25 October 2005, 17:10 genre: streetlife by mickael
After a flight that took far longer than expected (strike in France) a night that was much too warm for me, an early briefing, many hours of trails in the back of a MSF landcruiser sweating the water left in me; we arrive in Salamalé close to the Guinean border.
After working with doctors of the Cescom (local health center), and since I'll only have a couple of days in the area, I take the opportunity to walk around the village. Every little detail is fascinating, every encounter amazes both the villagers and me, I feel like a child or an alien or both. I finally decide to enter a courtyard, the light is burning, everything is enchantment.
I came here with little expectations, and I find myself falling in love with Africa as everyone predicted me.
qtvr sizes [FULLSCREEN] [SMALL] in a popup window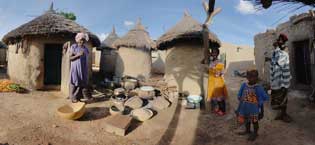 Après un voyage beaucoup plus long que prévu (grève en France), une nuit beaucoup trop chaude et un briefing matinal, quelques heures de piste à  l'arrière d'un landcruiser MSF à  suer ce qu'il me reste d'eau, nous arrivons à  Salamalé près de la frontière guinéenne.
Après avoir travaillé avec les médecins du Cescom, et comme je ne passerai que 2 jours dans la région, je descends au village. Chaque petit détail me fascine, chaque rencontre est un étonnement mutuel, Je me sens comme un gosse, et je me décide à pénétrer l'enceinte d'un groupe de maisons, la lumière est tranchante, tout me semble enchantement, je n'ai aucune idée de l'Afrique. Je suis venu ici sans attentes et je tombe amoureux du Mali comme on me l'avait prédit.