miami beach
24 February 2005, 12:51 genre: streetlife by mickael
adam from south beach miami
Meet Adam, king of the beach. Adam has a great job: sea rescue. He gets paid to look after the swimmers, watching the sea and exercise all day. After 4 nights spent with square pants in Miami he's just the encounter I needed !
I have no idea whether the sound I chose had any resonance in his walkman (swimman?). Sucked it from my hotel room radio and it seemed to fit. Damn! I miss the States already.
qtvr size [FULLSCREEN]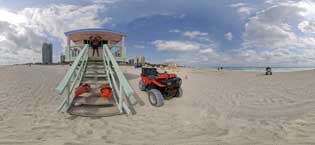 duel on the beach
I can't stop myself when someone draws a camera I draw too, here's yet another camera duel on the beach.
qtvr size [FULLSCREEN]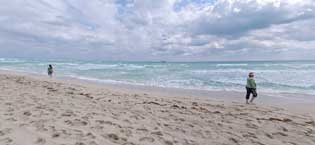 the sound of water is the most difficult ambient to catch I still haven't found the way to make splashes sound like splashes especially when like here the wind is blowing. It is always sounding like my 28k modem when compressed (even when not).
I know it's the microphones and the bonnets that need a 1500€ investment but I keep trying and you'll get no sound from the seaside until I'm rich or very lucky
yet again I patched sound from my hotel radio no idea what copyrights involved in this situation : ambient sound of my hotel room from a sub-dj radio digested hit who gets credit ?