urban art
5 February 2005, 15:28 genre: streetlife by mickael
le collectif d'art urbain à  Bruxelles accueille l'Atlas
rencontré ce mois de janvier Jules (aka l'Atlas), artiste, collectif, actif d'une génération que je connais peu. Ce que Jules fait est bien. Ici avec Sunset, Pablow et Tanc.
A une époque on tagait dans des maisons squattées, ça se terminait souvent mal. Ce qui était trash est devenu de l'art et le squat est maintenant une galerie subsidiée … c'est nouveau pour moi.
qtvr size [FULLSCREEN]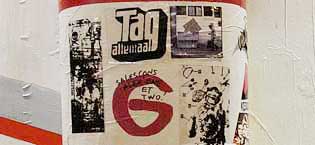 Met this January: Jules (aka l'Atlas): artist, collective, active of a generation little known to me. What he does is good. Here with Sunset, Pablow and Tanc.
There was a time when we used to tag and squat abandoned houses, often it would end in pain. What was once trash is now art and the squat is now a granted gallery. Where was I when that happened ?
qtvr size [FULLSCREEN]