invaders' strands
13 August 2004, 06:16 genre: family by mickael
Thornwick bay
qtvr sizes [FULLSCREEN] [SMALL] in a popup window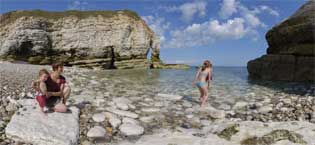 Thornwick bay is one in many small beach landings hidden between the white cliffs around Flamborough. The sea is cold, but kids don't mind, it is peaceful and the whole beach is ours for the day.
North landing
qtvr sizes [FULLSCREEN] [SMALL] in a popup window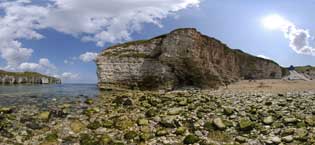 Another pebble beach where the Danes landed 12 hundred years ago. Thousands of birds nest in the 400 ft tall cliffs over here. But kids prefer crabs. so you'll hear the water, not the birds.