good city of york
6 August 2004, 04:46 genre: streetlife by mickael
First street scenes in York, the second panorama was motivated by street sound only.
Premiers panos de rues dans la bonne ville de York, le second motivé uniquement par le son ambiant.
york street corner
qtvr sizes [FULLSCREEN] [SMALL] in a popup window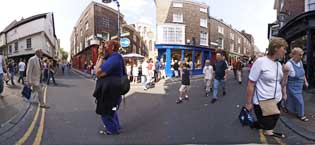 As I was spinning this shot, the street turned from full sun to full shadow.The people kept moving as I was shooting.
Enblend
now integrated in
PTM

ac
can work out miracles.
Pendant la prise de vue, la rue passa soudain du plein soleil à  l'ombre la plus complète. Les passants bien sûr ne tenaient pas en place. L'informatique fait ici des miracles: Enblend maintenant intégré dans PTMac a rattrappé presque tous les écarts de lumière, me laisant juste les passants à  remettre en place.
york street piano, with street sound
qtvr sizes [FULLSCREEN] [SMALL] in a popup window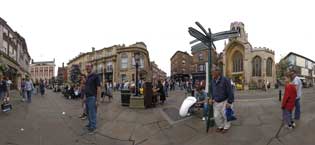 The soundtrack was taken live on minidisc and compressed in MP4. I'm still working out sound issues and MP3 doesn't seem to ouput the best compression rates.
Le son a été capturé dans la rue sur minidisc et compressé en mp4. Je suis toujours à la recherche des meilleures compressions.
I just wanted to say that your site is so inspirational; I LOVE your work!
— myla    Aug 17, 04:21 AM    #


this scene breaks my heart, esp the woman with the camera and the york guide. ;) thank u for inspiring us daily!!
— jen    Oct 22, 06:19 AM    #


Just been looking at the York Panoramas. I'm originally from York, now live in Canada and it was great to see 'what I use to see'.

Nice work

Terry
— Terry Tollon    Sep 30, 12:34 PM    #