Santa Claus the impostor
13 December 2004, 14:54 genre: family by mickael
Margot's first Saint Nicolas
Santa Claus is an impostor in fact he really is Saint Nicolas or Sinter Klaas, we still celebrate him here early December, all benefits to kids: they get both the original on the 6th and the copy on the 25th of December.
It really is the first Saint Nicolas for Margot on Sunday, tension has been rising all week in the family, the kids have their wish-lists ready for him.
A carrot for the donkey, a glass of wine for the holy bishop, nothing for his slave. If the children have behaved he won't punish them. The slippers have been laid together with the lists by the chimney and it's off to bed for the most anxious night of the year: will he come again this year ?
qtvr size [FULLSCREEN] in a popup window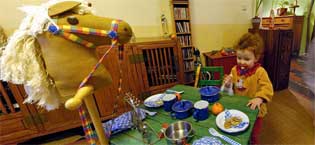 I'm not one for morning panos, up at 7:30 am with children screaming in excitement, chocolate coins and mandarines just about everywhere in the house, by 7:35 I must be ready for this pano I forgot to set up the night before too busy I was helping with the mise en scène. So it's forget about white balance and nodal point just shoot and pray…
More on Saint Nicolas here and since it is in French, here is an english version by an online translator