sheltering tree
10 November 2005, 01:33 genre: streetlife by mickael
Karan
After another long drive in the South and a day spent around the health center witnessing the devastations of malaria, I need a break.
A kid walks up to me as if he knew and takes me to the sheltering tree gathering.
Mohamed and his father the village teacher, our driver, friends and family waiting, chatting and drinking tea invite me to a pano. I still have to figure out a way to get it to them.
qtvr sizes [FULLSCREEN] [SMALL] in a popup window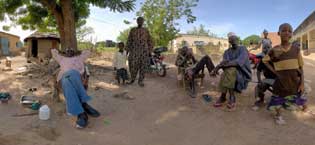 Après une journée passée à  documenter les ravages de la malaria, j'ai besoin d'une pause. Un gosse vient me chercher, comme s'il savait ce que j'attends, et m'enmène chez lui à  l'ombre de son arbre.
Mohamed et son père l'instituteur, notre chauffeur et des villageois discutent en partageant le thé, ils m'invitent à  les photographier. Je dois encore trouver un moyen de leur faire parvenir la photo.