3 kids drowning
2 October 2005, 02:42 genre: family by mickael
sikorsky sea rescue – sauvetage en mer
The rumour is spreading like the wind on the beach: 3 kids are missing and have been reported drowning just 60 meters away from the shore. The day before a 12 y.o. was found dead by the wave-breakers just a few miles down. The sea is deserted in minutes as the Sikorskys fly in to drop the army scuba-divers. Parents count their kids, we are all holding our breath, Adèle and her cousin Annabel are petrified.
La rumeur s'amplifie: 3 gosses manquent à  l'appel et se seraient noyés ici à  60 mètres de la côte. Il ya quelques jours un autre gosse a été retrouvé mort dans les brises-lames pas très loin. La mer est désertée en quelques minutes et les Sikorskys de l'armée lancent leurs plongeurs. Les parents comptent leurs enfants, on retient son souffle, Adèle et Annabel sont pétrifiées.
qtvr sizes [FULLSCREEN] [SMALL] in a popup window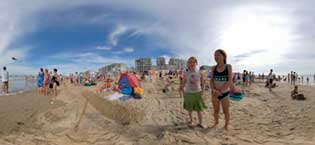 A couple hours later, it turned out to be a bad joke from bored kids.
Après quelques heures d'attente, on apprendra que ce n'était qu'un fantasme d'enfants en mal d'émotion.