doña Laura
27 May 2006, 15:02 genre: streetlife by mickael
Orphelins du
SIDA
Moatize, avril 2006.
Doña Laura fait partie du personnel local pour msf (à  l'arrière du groupe tout sourire), réfugiée du Malawi en 88, et aidée à  l'époque par msf, elle s'engage dans le programme SIDA au Mozambique et décide rapidement de s'occuper des orphelins. Depuis elle a pris à  sa charge plus de 100 d'entre eux, aidée par la communauté locale et par les dons ponctuels des expats sur place, elle a aussi créé une association pour "pousser le projet au-delà  de sa vie". Sa volonté est un exemple pour toute la région, sans elle ces enfants n'auraient probablement pas d'avenir.
Voici leur accueil à  notre arrivée à  l'improviste.
(à  suivre…)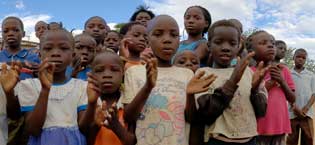 panorama size [Large] in a popup window
Orphans of

AIDS
Moatize, April 2006.
Doña Laura is local msf staff (behind the kids, smiling), refugee from Malawi in 88, she was helped by msf at the time, she enrolled in the AIDS programme in Mozambique and rapidly decided to take care of orphans. Since, she has been caring for more than 100 children with the help of the community and gifts from the expats, she also created an association "to push the project beyond her life". Her will is an extraordinary example for the whole community, without her these children would probably be abandoned.
This is their welcome on our unexpected visit. (tbc)
le pain et dona laura, plein de sourire. Maude découvre en même temps…
un autre regard, une découverte, beaucoup de questions…


— Benoit    May 29, 01:51 PM    #



...lots of questions and lots of admiration:)
Mickael, every time I see your panos I am struck by your wonderful ability you have to tell/show a story … on top of that you manage to enrich the visual impression with Beautiful Colors and Details.
John:)


— John E. Kroll    Jul 3, 03:32 PM    #



This is probably the best QTVR I have ever seen. Not only it was well done. But it was probably the only panorama that really made me feel 'being there'.
sharp, amazing colors, and no ghosting or other stiching errors. well done.


— Aziz    Aug 9, 05:53 PM    #